ARCHITECTS
We are engaged in the comprehensive supplying of stone interiors and exteriors, from design, surveying, manufacturing to assembly. Our main domain is the direct import of all materials from specific countries of origin. We currently trade with countries from Asia, Eastern and Central Europe, in particular traditional suppliers from the Balkans, South America and Western Europe. With some unique suppliers we have signed an exclusive representation for the Czech Republic.
For example, KANFANÁR, cream-colored limestone from Croatia can be delivered in very interesting surface treatments and also blocks in solid elements. Moreover, they can be placed outdoors without problems.
VRAČAN, limestone from Bulgaria, which in Czech Republic was widely used in the past, is historically proven in our environment …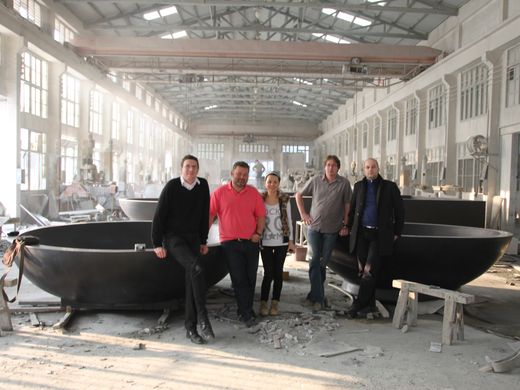 Similar materials are purchased from Turkey, like Antalya Crema or Lymra, but also Portugal and Spain. Bluestone, a material originating from Vietnam, Ireland and Belgium, is becoming increasingly popular. Together with our longstanding partners from South China, we can deliver solid elements in unique shapes and sizes. Similar products cannot be produced due to technical reasons in Czech conditions. For example, the Pilsen Republic Square fountain, thanks to its size, is unique in Europe. The creators of the project had the opportunity to approve the design directly in China before loading. We follow the latest trends in stone designs and thanks to good contacts with the world's leading processors, we can also deliver these unusual materials. Normally, we work with architects in the preparation of projects; we are available for a variety of consultations, delivering all material samples and technical parameters. We have an established stable company, but so far we have worked primarily on projects for private VIP investors. If you will have any questions or you will solve atypical materials or execution, do not hesitate to contact us.